RES-A Explosion Proof Revolving Warning Light
The RES-A explosion proof Revolving Warning Light is designed for use in potentially flammable and explosive atmospheres, with IEC Standard compliances.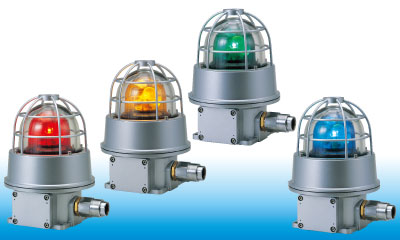 · Rotating Parabolic Reflector: For enhanced visibility from a distance.
· Installation: Indoors—upright, inverted, sideways; Outdoors—upright only.
· Main Body: Aluminum alloy die-cast with silver color baked finish.
· Dome: Acrylic resin covered with clear hard-glass, and metal guard.
· Product Standards: IEC Standards (IEC ExdIIB + H2T6) Zone1, 2 compliant.
· Approved by: TIIS.
· Available Colors: Red, Amber, Green, Blue.

SIZE

- 224mm diameter

OPERATING VOLTAGES

- 12V DC




- 24V DC




- 48V DC




- 100V AC




- 115V AC




- 220V AC




- 240V AC

FUNCTIONS

- Rotating

MOUNTING

- Direct Mount




- Indoor: Upright, Inverted, Sideways




- Outdoor: Upright Only

BODY STYLE

- Aluminum alloy die-cast

BODY COLOR

- Body: Silver-colored Baked Finish

GLOBE COLOR

- Light Source: Bulb




- Dome Colors: Red / Amber / Green / Blue

GLOBE MATERIAL

- Glass

CONFORMITY STANDARDS

- IEC Standards Zone 1,2 Compliace




- TIIS Approval

PROTECTION RATINGS

- IP65