EDWM Explosion Safe
The EDWM is an innovative 5 tier LED signal tower enclosed in a housing designed specifically for use in potentially flammable and explosive atmospheres. The EDWM is compliant to ANSI and NFPA Standards for NEC classifications.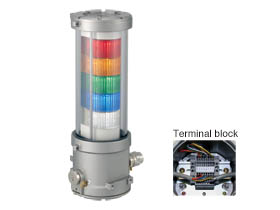 Standards: Compliance to ATEX and NEC standards.
Connection: Easy wiring for parallel connection to another interlocking device through 2 lead-in ports.
Terminal Block: Easy connection to the signal tower by opening the bottom cover.
Body: Made of aluminum alloy.
Light Source: Long life, maintenance-free LED.
Mounting: Wall mount, surface mount and horizonal mount.

DIMENSIONS

- Overal Case Dimensions (excluding wiring and mounting extensions): 152mm diameter x 415mm




- Enclosed Light Tower Dimensions: 70mm wide x 80mm deep x 271mm long

OPERATING VOLTAGES

- 24V AC/DC




- 90-250V AC

FUNCTIONS

- Continuous and Flashing (no alarms)




- Dry contact closure such as switches or relay contacts




- Open-collector transistor (NPN or PNP for DC24V, NPN for AC90-250V)




- Direct-voltage control for DC24V, continuous function only

MOUNTING

- Upright Mount




- Wall Mount




- Horizontal Mount

BODY STYLE

- Explosion-proof enclosure contains a WME-A-style tower




- Wiring terminals provided

BODY COLOR

- Enclosure: Grey




- Tower: Beige

STACKABLE TIERS

- 5-tier only

MODULE COLORS

From top to bottom:




- Red




- Amber




- Green




- Blue




- Clear

CONFORMITY STANDARDS

- Factory Mutual FM3600

PROTECTION RATINGS

- Class i, Zone 1, Zone 2, AExd II CT6




- IP-66